Are you stuck in the stuff struggle?
You spend a ridiculous amount of time picking up stuff when you'd rather be watching Netflix... or reading a book... or, let's face it, doing anything else.
You hope "swimming in stuff" becomes a new Olympic sport, because you'd be Michael Phelps.
Your daily trek up Mount Laundry and Mount Dishes has you pretty exhausted... and where's that sweet view from the top??
And please, don't even mention the garage...
If any of this sound familiar, I've got some good news...
You can bust out of this cycle.
How?
Minimalism.
Yep, turns out that age-old "less is more" philosophy was really on to something.
Transform Your Home

Transform Your Home is a step-by-step course based on the LESS Method™, a system I developed after minimizing my own excess stuff, and then helping hundreds of others do the same.
The principles are simple, but the results are, well, take a look for yourself...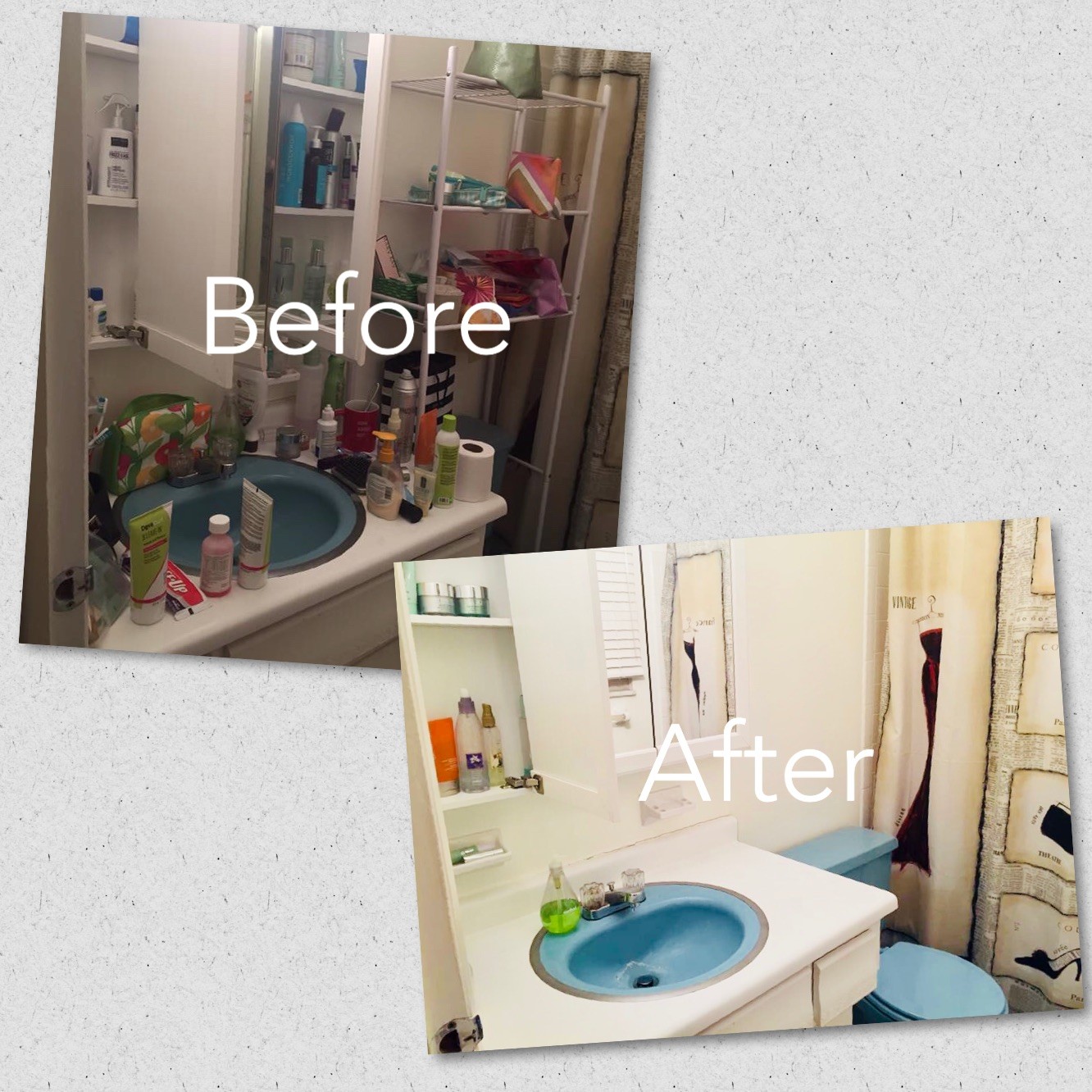 This student did this after her very first class, no magical skills or more than 24-hours-per-day necessary. She just had a step-by-step system that worked.
Is this course for me?

Whether you're a man, woman, couple, parent of young kids, empty-nester, baby boomer, or some other demographic I can't think of, you can find freedom through minimalism. :)
This course is right for you if:
You can't relax in your home because your stuff is always pushing your stress button.
You're constantly picking up. And a wee bit frustrated that the people you live with don't help more... nah, let's be real. You've got Incredible Hulk-like rage.
You have "that door" you pray no one ever opens. You've even considered padlocking it and giving the key to your forgetful sister.
When people drop by unannounced, you try to keep them on the porch by saying your house was hit with a cholera epidemic (insert fake cough).
You want to do something about your unused, unloved stuff... but getting started on that feels about as do-able as running an Iron Man with a camel strapped to your back.
But seriously... if your stuff is running your life and you want to flip the switch and start enjoying the sweet freedom of a life with LESS, you're in the right place.
Transform Your Home takes you step-by-step through every space of your home to help you let go of your unused, unloved stuff and start enjoying the peace of mind that comes with open space, clear countertops, and closets that no longer resemble portals to alternate realities. This is a practical, step-by-step course that will have you reaching for the donation bag right after your first class!
After taking this course, you will:
Walk into your bathroom at 6am and be greeted by clear counters holding just those products you use and love... no more mystery bottles of who-knows-what. Yay!
Open your closet and see clothes you actually want to wear. Goodbye ill-fitting, outdated outfits that make you look--and feel--like you're about to pose for an awkward senior photo.
Enjoy a cup of coffee in a kitchen with counters free from random paper and all that other stuff that seemed to breed while you slept.
Eat at your dining room table without clearing paper piles first... or maybe eat at your dining room table for the first time ever, because ya know, that's really what it's for. ;)
Get your spouse and kids on board without nagging or threats. (Yes, really...)
Find exactly what you need in your storage areas. No more hours-long hunt for the tree topper. Christmas just got that much merrier!
Deal confidently with those tricky, sentimental objects, like your childhood soccer trophies and those unfinished scrapbooks from college.
Feel freedom, peace of mind, and pride when you look around your home. (Can I get an amen from the balcony, please?)
What do you get?

You'll get over 6 hours of video lessons plus downloadable PDFs.
The lessons are broken down into 6 little minicourses that you can work through at your own pace and in whichever order you like:
Minicourse #1: Declutter Your Bathroom Like a Pro takes you step-by-step through your bathroom to help you minimize excess beauty products, towels, medicines, and more.

Minicourse #2: Closet Full of Nothing to Wear? No More! teaches you the secrets to discovering the streamlined, stylish wardrobe that is hiding under all those old T-shirts from college and business attire from three jobs ago.
Minicourse #3: Kitchen Clutter, Solved!

teaches you how to strategically minimize the excess in the heart of your home so you can get on with the more important business of connecting with your family.

Minicourse #4: Banish Paper Piles for GOOD is a fan favorite. In this course, you'll learn my secrets for managing paper so you never ever have to deal with paper piles again. Like ever.
Minicourse #5: Declutter With Your Spouse and Kids will teach you the skills you need to bridge the decluttering gap with those lovely people you live with. No nagging or threats required. Pinky promise. :)
Minicourse #6: Storage Serenity Now! borrows a fun phrase from Seinfeld to help you dig in and tackle those storage areas, such as the basement, garage, and attic. You'll also learn how to handle all that sentimental memorabilia like a minimizing ninja. :)

If you're ready to transform your home--and more importantly, your state of mind--this course is ready for you!